Help support Deep Oldies by buying this great CD from Phoneix 60′s singer-songwriter, Frank Fafara!
Frank Fafara was a popular artist in Phoenix, Arizona, from 1959 through 1964, he scored many local hits. His first record, "Only In My Dreams was a teen smash and hit the top 5 on the KRIZ Top 40 Record Chart, and is now available for the first time on the CD "Only In My Dreams". The Best of Frank Fafara. Mastered from the original master tapes, this is the first time any of these songs have been available since the 45 releases. Many of his songs were recorded by other top Phoenix bands and artists in the 60′s like P-Nut Butter, Roosevelt Nettles & Jim Boyd),  which are available on The Mascot Records – Jack Curtis Story and P-Nut Butter vs The Vibratos from Radio Free Phoenix. Frank would go on to open for many top artists in his day, including The Everly Brothers, Conway Twitty, Brenda Lee & Del Shannon. Buy this great CD from RFP!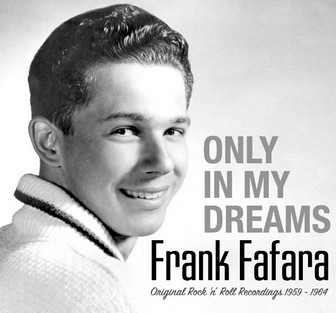 Frank Fafara – Only In My Dreams CD
$11.95 + $3.50 P & H

Read more about Frank's music career below
Also Pickup these other great Phoenix 60′s CD from Deep Oldies!